Study notes
---
All about a run is stored in an
Environment
.
Generic term.
Environments are encapsulated by the Environment class; which you can use to create environments and specify runtime configuration for an experiment.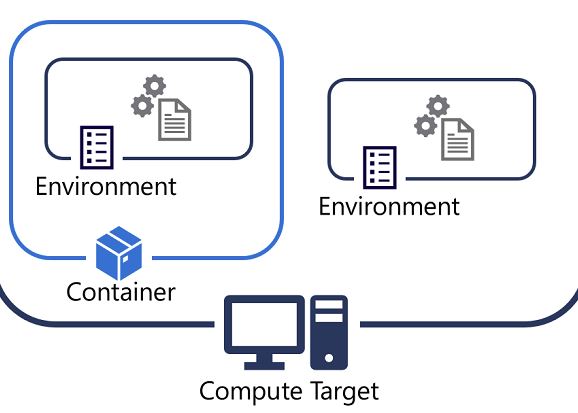 In Python - Machine learning an environment stores:
Python version
Conda or pip packages
Way to create an environment:
1. From file

from azureml.core import Environment

py_env = Environment.from_conda_specification(name='ENV_NAME',
file_path='./conda.yml')
conda.yml
2. From existing Conda environment
from azureml.core import Environment
env = Environment.from_existing_conda_environment(name='ENV_NAME',
conda_environment_name='py_env')
3. By specifying pacages
from azureml.core import Environment
from azureml.core.conda_dependencies import CondaDependencies
env = Environment('training_environment')
deps = CondaDependencies.create(conda_packages=['scikit-learn','pandas','numpy'],
pip_packages=['azureml-defaults'])
env.python.conda_dependencies = deps
When you run a Python script as an experiment in Azure Machine Learning,
a Conda environment is created.It defines the execution context for the script.

Azure Machine Learning provides a default environment that includes many common packages;
azureml-defaults package that contains the libraries necessary for working with an experiment run
popular packages l(pandas, numpy, etc
You must have your own environment in a Conda specification file, adding packages by using
conda
or
pip
The conda dependencies are installed first, followed by the pip dependencies. Make sure pip package is included in
conda dependencies
Example - wil be written a file
experiment_env.yml
%%writefile $experiment_folder/experiment_env.yml
# The python interpreter version.
# Currently Azure ML only supports 3.8.2 and later.
- pip:
Use env file to create the enviroment
rom azureml.core import Environment
# Create a Python environment for the experiment (from a .yml file)
experiment_env = Environment.from_conda_specification("experiment_env", experiment_folder + "/experiment_env.yml")
# Let Azure ML manage dependencies
experiment_env.python.user_managed_dependencies = False
# Print the environment details
print(experiment_env.name, 'defined.')
print(experiment_env.python.conda_dependencies.serialize_to_string())
Result:
experiment_env defined.
name: experiment_env
dependencies:
# The python interpreter version.
..
..

Finally, register the environment for further use:
With the environment registered, you can reuse it for any scripts that have the same requirements.
# Register the environment
# The environment is registered with the name you assigned when you first created it
experiment_env.register(workspace=ws)
List registered environments
from azureml.core import Environment

envs = Environment.list(workspace=ws)
for env in envs:
print("Name",env)

---
References:
Introduction to environments - Training | Microsoft Learn
Exercise - Work with Compute Contexts - Training | Microsoft Learn