| | |
| --- | --- |
| Prep time: 10 minutes | Cook time: 15 minutes |
| Course: Main course | Calories: 468 |
| Serve: Hot | Cuisine: Italian Style |
| Recommended side dish: none | Dish type: Elegant |
| Store: espressa (made and eaten) | Special occasions: Christmas lunch or New Year's Eve dinner |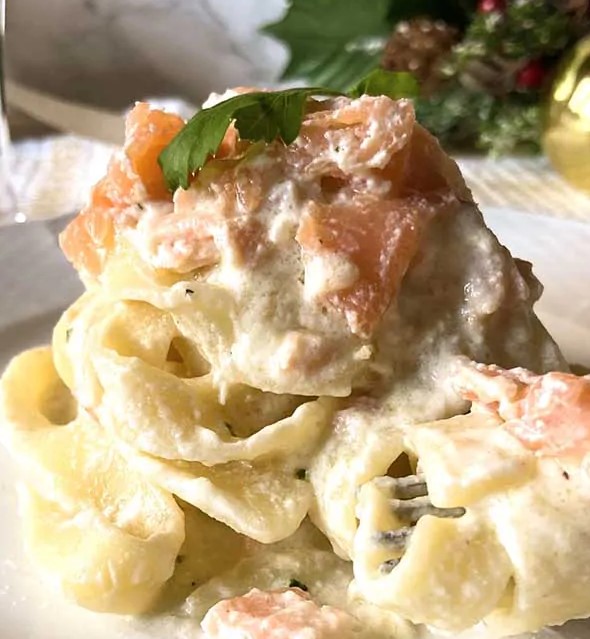 Ingredients
for 4 servings:
350 g (12 oz) of fettuccine. We used bronze-drawn durum wheat fettuccine by Tuscanini
200 g (7 0z) of fresh ricotta cheese
150 g (5 oz) of smoked salmon
1 shallot
1 organic lemon
2 tablespoons extra virgin olive oil
120 ml (1/2 cup) of dry white wine
1 tablespoon of chopped parsley
Salt and pepper to taste
---
Ingredients for 2 servings:

175 g fettuccine
100 g fresh ricotta cheese
75 g smoked salmon
1/2 shallot
1/2 organic lemon
1 tablespoons extra virgin olive oil
60 ml (1/4 cup) dry white wine
1 tablespoon chopped parsley
salt and pepper to taste

Ingredients for one serving:

90 g fettuccine
50 g fresh ricotta cheese
35 g smoked salmon
1/4 shallot
1/4 organic lemon
1 tablespoons extra virgin olive oil
30 ml dry white wine
1 tablespoon chopped parsley
salt and pepper to taste
---
Method
:
Start by bringing a pot of lightly salted water to a boil for the pasta. About 2.5 liters (10 cups) of water with 1 tablespoon of coarse salt.
Then finely chop the shallot and cut the smoked salmon into small pieces.
Sauté the shallots in a skillet with 2 tablespoons of oil. Then add the smoked salmon. Stir and cook for a couple of minutes over medium heat.
Keep a few pieces of raw salmon aside. You will use them to serve as a garnish for the dish.
Add the dry white wine and let it evaporate over high heat. Cook for another 2 minutes over medium heat, then turn off the heat and keep aside.
Now, when the water boils, add the coarse salt. Then drop in the fettuccine and cook. Follow the cooking time indicated on the package. This ranges from 6 to 10 minutes depending on the thickness of the pasta.
Separately, put the ricotta cheese, chopped parsley, a scant ladle of pasta cooking water, a pinch of salt and pepper, and grated lemon zest in a bowl.
PLEASE NOTE: If the lemon is very large, half is enough. Make sure it is organic and be careful to scrape only the superficial yellow part. The white part underneath is very bitter.
Stir vigorously until it forms a smooth, homogeneous cream.
If the cream seems too firm and compact, add some of the pasta cooking water. This depends on the amount of liquid in the ricotta. Keep aside.
Now when the pasta is cooked, drain it al dente.
Turn the heat back on under the pan with the salmon. Then put the fettuccine directly into the salmon and stir.
Finally add the ricotta cream.
Stir everything together, turn off the heat, and serve. Decorate with a few pieces of raw smoked salmon and a few parsley leaves.
Enjoy these Italian creamy smoked salmon fettuccine!
Smoked Salmon Pasta (with Cream)
We have shown you a version of Fettuccine with smoked salmon and fresh Italian ricotta to have a lighter, more digestible and less caloric dish. But the most famous and popular combination for this recipe, which is certainly very tasty, is smoked salmon and cream.
Instead of preparing a separate cream, pour 250 ml (8 oz) of whipping cream into the pan with the salmon. Let it cook about 5 minutes to let the cream shrink a bit, and then season the pasta.
Smoked salmon pasta with zucchini
To enrich the taste of your pasta dish, you can add vegetables. The most suitable vegetables to pair with smoked salmon are those with a sweet and delicate flavor.
Definitely zucchini goes perfectly with the delicate flavor of salmon.
Here are our tips for the smoked salmon and zucchini pasta recipe. First, wash the zucchini, dice them and saute them in a pan along with a drizzle of extra virgin olive oil.
While the pasta is cooking, stir in the salmon, deglaze with half a cup of white wine and let it evaporate over high heat. Make the ricotta cream as shown in the recipe. Finally season the pasta with this delicious sauce.
Smoked salmon pasta with peas or asparagus
You can also enrich pasta with smoked salmon and ricotta by adding peas or asparagus tips.
Pasta with Smoked Salmon and Vodka
Another tasty and quick variation is pasta with smoked salmon and vodka.
This was one of the typical condiments of Italian cuisine in the 1970s, but certainly still very popular.
The famous recipe for "Penne alla Vodka" calls for Pennette and pancetta, but these can easily be substituted with Fettuccine and smoked salmon for a sea-flavored Vodka version.
The method follows the same steps as our recipe. The only difference is the use of 1/2 cup of vodka instead of white wine to blend the salmon and shallots.
Pasta with fresh Salmon
If you do not like the smoky flavor, you can certainly use fresh salmon.
Carefully clean the salmon slice by removing the skin and any bones. At this point you can cut it into chunks or coarsely fray it before cooking.
Sauté the shallot and then cook the fish over low heat while you boil the pasta; it only takes a few minutes. Then proceed as directed.
This pasta recipe with Fresh Salmon and Ricotta will definitely have a milder flavor. We recommend adding a little ground black pepper or a few whole pink peppercorns when serving.
---
Reference
:
https://www.recipesfromitaly.com/smoked-salmon-fettuccine/