Neapolitan vegetarian pasta recipe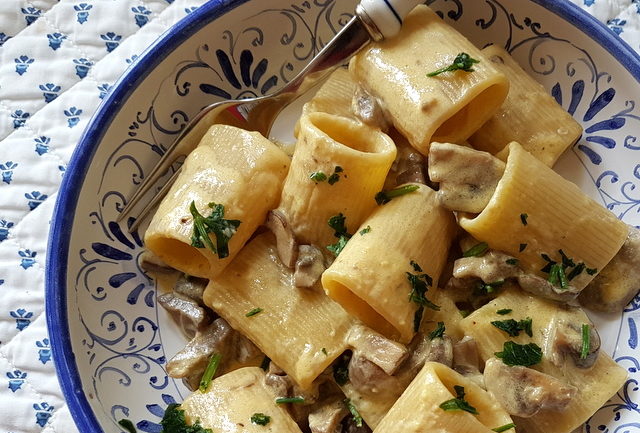 Ingredients
:
400 g mezzi paccheri (14oz) or tuffoli from Pasta Mancini
300 g mushrooms (10oz) or 100 g dried mushrooms
50 g Parmigiano Reggiano (2 oz) grated ( or vegetarian parmesan as Italian Parmigiano contains animal rennet)
50 g butter (2 oz)
2 eggs
1/4 lt fresh cream (8.5 floz)
salt for pasta and to taste
black pepper to taste
fresh parsley as required (optional)
Method
:
Clean the mushrooms and cut them into small slices or quarters. If using dried mushrooms, soak in warm water for 20-30 mins then drain and cut into small pieces.
Melt the butter in a deep frying pan or skillet on a very low flame, so that it does not burn. Add the cut mushrooms and cook for 15 minutes or so.
While the mushrooms are cooking, put one egg and one egg yolk into a bowl, with the Parmigiano and the cream beat together gently until you have a smooth mixture.
Put a pot of water on to boil for the pasta. when it starts to boil add salt and bring to the boil again. Cook the pasta al dente according to the instructions on the packet.
Just before the pasta is ready, add the mixture of eggs, cheese and cream to the mushrooms cooked in butter and mix ( but don't cook it further). Add salt and pepper to taste.
When the pasta is cooked, drain it and add it to the sauce. Immediately, mix the sauce and the pasta together well over a low heat. You want the sauce to heat through and coat the pasta without the eggs becoming scrambled.
Serve immediately with a sprinkling of parsley (optional) and some more grated parmigiano.
Note
:
If you don't have mezzi paccheri you can use other pasta tubes such as rigatoni, penne or tortiglioni.
Reference
:
https://www.the-pasta-project.com/mezzi-paccheri-with-mushrooms-and-cream/