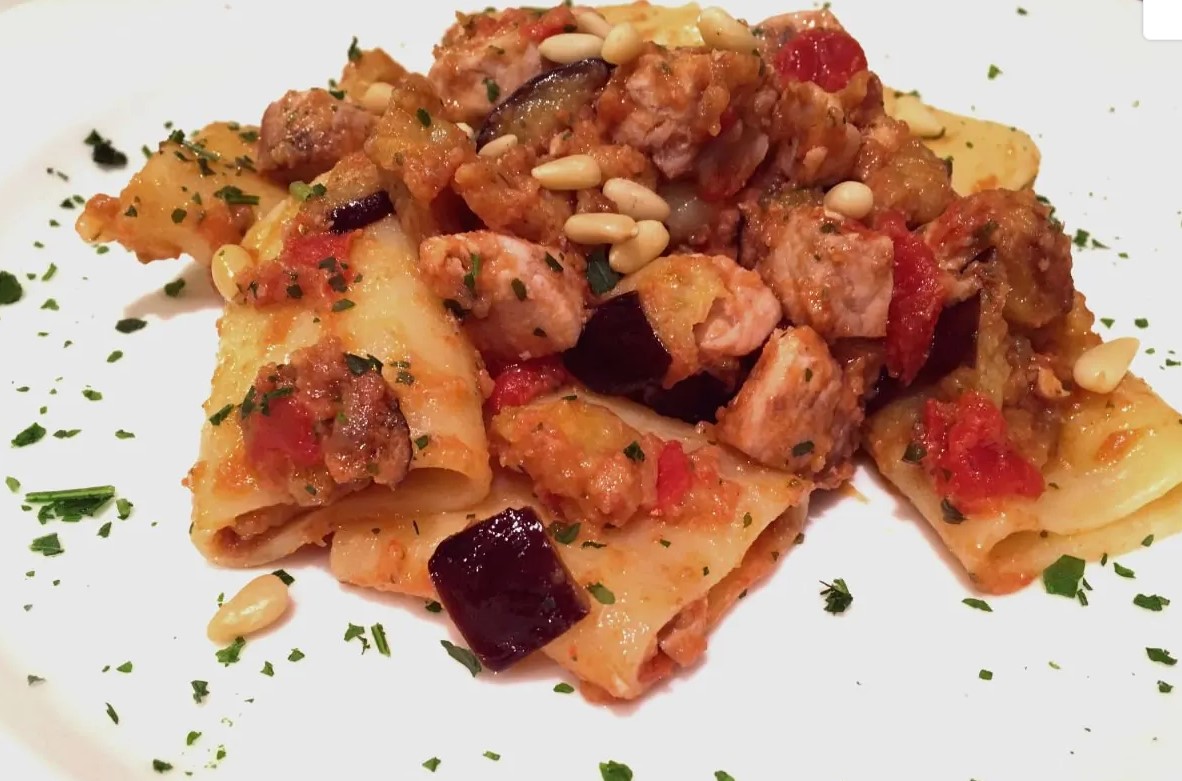 Ingredients
:
250 g (8,9 oz) of Paccheri (penne or sedanini pasta)
2 slices of swordfish, about 1.5 cm high
1 eggplant medium size
3 tablespoons of tomato passata
2 tablespoons of flour
oil for frying
1 garlic clove
a few pine nuts
extra virgin olive oil
chopped parsley
salt and pepper
Method
:
Cut the swordfish into little cubes and set them aside. Then cut the eggplant into small pieces. Flour the pieces of eggplant and fry them in plenty of olive oil. When they are a crispy golden brown, remove from the oil and let them dry on kitchen paper. In another pan, cook the diced swordfish in 3 tablespoons of extra virgin olive oil with a clove of garlic.
After 2-3 minutes add the tomato passata and chopped parsley. When the swordfish is cooked and blended with the sauce, remove the clove of garlic and add the chunks of fried eggplant. Cook another few minutes and adjust salt and pepper. Stir all the ingredients. In this way the fried part of eggplant with tomato make the sauce creamy.
In a large pot heat salted water and when it boils place the paccheri pasta and cook for about 15 minutes stirring occasionally. Drain the paccheri "al dente". Pour into the sauce pan and cook for 2 minutes, mixing well. Add chopped parsley and a bit of pine nuts and serve.
Reference
;
https://www.recipesfromitaly.com/pasta-with-eggplant-and-swordfish/