Minestrone - Minestrone soup
The origins of Italian Minestrone recipe are very ancient. Minestrone was already known to the Romans, who prepared it with onions, garlic, carrots, asparagus, lentils, mushrooms, and whatever could be found in the fields at that time.
The method of preparation was the one we still use today: boiling all the ingredients in water.
Over the centuries, and especially after the discovery of the Americas, the ingredient list for minestrone was enriched, especially with tomatoes and potatoes.
The "ministrata" was precisely the one who had cooked and distributed the dish to the diners.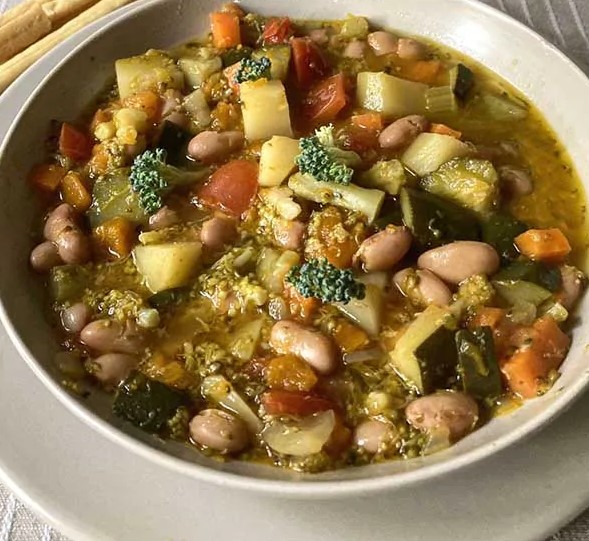 Ingredients
:
2 medium potatoes
1 medium onion
2 medium carrots
1 medium zucchini
1 stalk of celery
2 ripe tomatoes or 100 g (1/2 cup) of Tomato Passata
100 g (4 oz) of pumpkin pulp
100 g (4 oz) of broccoli florets
200 g (7 oz) of borlotti beans (cranberry beans) or cannellini beans (white kidney beans)
3 tablespoons of extra virgin olive oil
salt and ground black pepper to taste
Method
:
PLEASE NOTE:
A) First of all, remember that if you use dried beans you must soak them in water for at least 12 hours before using them.
B) Wash and peel all the vegetables thoroughly. Then cut them into as even pieces as possible. If the vegetable pieces are about the same size, they will cook more evenly.
In a high-sided pot, sauté onion, carrots and celery (which you have previously diced) with two tablespoons of oil. Cook slowly for about 10 minutes, stirring occasionally.
Now add all the other vegetables, starting with those that have the longest cooking times. In our case, therefore, first of all the beans.
Remember that if you are using dried beans, they should be soaked in plenty of water at least 12 hours beforehand.
Then add the chopped pumpkin.
Finally, the potatoes in chunks.
Stir and add about 1.5 liters (about 6 cups) of water. Lightly salt, cover with a lid and cook for about 20 minutes from boiling over moderate heat.
After this time, add the other vegetables as well. First the zucchini and broccoli cut into pieces.
Then the chopped tomatoes or tomato passata.
Stir and, if necessary, adjust the consistency by adding more hot water. Adjust salt and continue cooking for about 15 minutes, covered and over moderate heat, depending on the desired consistency.
The authentic Italian minestrone soup is ready and should be served, hot or warm, with a drizzle of oil and a grinding of black pepper. Enjoy!
Tips
;
The Secret to Make the Best Italian Minestrone Soup: The Soffritto

As we saw in Step 1, the preparation of Minestrone begins with the soffritto.
The minestrone soffritto consists of chopped onion, celery and carrot sautéed with extra virgin olive oil. Variations can be endless depending on the region or family Italian customs. For example, you can add chopped garlic and hot chili peppers.
You can also flavor the soffritto with sage and rosemary or bay leaf in winter, while it is best with basil and parsley in summer.
Regional variations also concern the fats used: in northern Italy they substitute olive oil with butter or lard, while in central and southern Italy they add bacon or chopped ham fat to give more flavor to the soffritto.
How to Serve Italian Minestrone Soup
Minestrone is a vegetable-only soup
with a thick consistency that can be served plain or with bread croutons and a little grated Parmesan cheese on top.
In Italy, minestrone is considered a first course, but given its richness in vitamins and minerals, it can also be considered a vegetarian main course.
Minestrone Soup with Ditalini Pasta or Cereals (Rice, Spelt, Barley)
: Often there is also the custom of adding a handful of ditalini pasta or cereals (rice, spelt, or barley) to minestrone, resulting in a more complete, rich and satisfying dish. Of course, if you choose to add pasta or cereal to the minestrone, keep the consistency slightly more brothy; if necessary, add a couple more ladles of hot water. Add the pasta or cereal when the vegetables are almost cooked. Continue cooking for the necessary time indicated on the pasta or cereal package, usually 10 to 15 minutes.
Minestrone alla Fiorentina
In Tuscany, for example, ditalini rigati are widely used. Also in Tuscany, it is customary to blend some beans to give a thicker consistency to the minestrone.
Minestrone alla Romagnola
In Emilia Romagna people prefer to use a very small egg pasta in minestrone, often flavored with nutmeg.
Minestrone alla Milanese
In Lombardy people prefer to use rice. Indeed, the minestrone alla Milanese, prepared with rice, savoy cabbage and borlotti beans, as well as other vegetables, is famous.
Minestrone alla Genovese
In Liguria people prefer trenette coarsely broken by hand. Minestrone alla Genovese also includes the addition of a spoonful of Genovese pesto and green beans along with the other vegetables.
Minestrone in the Cucina Povera: A Curiosity
In the cucina povera of the Italian rural tradition, there was a custom of boiling together with vegetables also waste foods, such as ham bones and parmesan crusts.
These ingredients, although waste, still had a lot of taste, flavor and fat that made minestrone richer and tastier.
Spring Minestrone
In Spring you can use fava beans, fresh peas, and tender spinach. To give Minestrone an even more aromatic touch, add a spoonful of basil pesto, made from the first leaves of newly hatched basil plants.
Summer Minestrone
To choose what to put in minestrone in summer, just look at the vegetable counter: the choice is really wide.
The first ingredient to put on the list is, of course, zucchini, which are at their best in this season. They are tender and tasty.
Among seasonal vegetables in summer, let's not forget bell peppers, ripe and tasty tomatoes, green beans, and new potatoes.
Autumn and Winter Minestrone
This vegetable soup in the cold seasons, autumn and winter, is rich and tasty. At this time of year there are vegetables that are very nutritious, strong in flavor, and rich in nutrients.
Cold season minestrone cannot do without squash, aromatic leeks, fennel, cabbage and cauliflower.
In addition, to give a special touch, you can add chopped mushrooms.
Reference
:
https://www.recipesfromitaly.com/italian-minestrone-soup-recipe/
---
Ribollita - The Authentic Tuscan Soup
The origins of the ribollita recipe are very ancient, so much so that in the Middle Ages there was a type of soup that can be considered the direct ancestor of the ribollita we know today.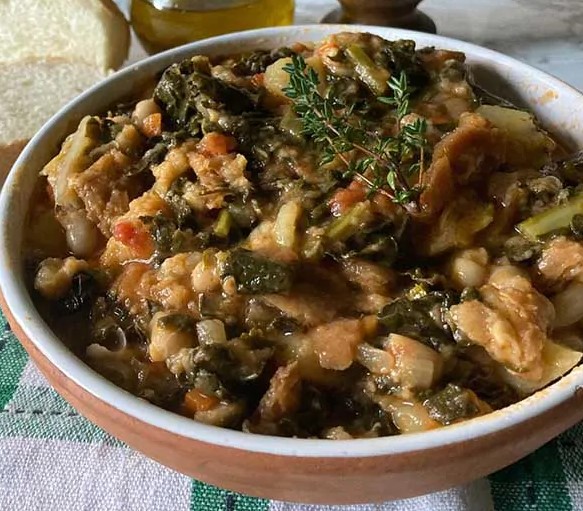 Ingredients
:
400 g (14 oz) of dried cannellini beans or 800 g (1 3/4 pounds) of canned cannellini beans.
300 g (about 10 oz) of stale bread. In Italy, we use Tuscan ciabatta bread, which is traditionally salt-free.
400 g (14 oz) of cavolo nero (Dino Kale)
250 g (9 oz) of savoy cabbage or green cabbage
250 g (about 10 oz) of Swiss chard
250 g (about 10 oz) of potatoes (1 medium potato or 2 small potatoes)
180 g (6,4 0z) of peeled tomatoes
1 large onion
2 carrots
1 celery stalk
2 sprigs of fresh rosemary
2 springs of fresh thyme
about 2 liters (8 1/2 cups) of vegetable broth or hot bean cooking water (the kind you get when using dried cannellini beans)
70 g (5 tablespoons) of extra-virgin olive oil
fine salt to taste
ground black pepper to taste
Method
:
DRIED BEANS – This recipe calls for dried cannellini beans. If you are using this ingredient, soak the dried cannellini beans in plenty of cold water the night before.
Once the beans are tender, drain and cook in at least 3 liters (12 3/4 cups) of water – scented with a sprig of rosemary – over medium-low heat for at least 1 hour.
Then drain the beans, saving the cooking water. Keep half the beans whole and puree the other half with an immersion blender. Set aside.
CANNED BEANS – If using canned beans, remove the liquid and rinse under cold water. Blend half of them and set aside.
On a cutting board, chop the onion, carrot and celery into small pieces.
Then peel the potato and cut it into fairly large pieces.
Wash and slice the cabbage, chard and kale.
Place the peeled tomatoes in a bowl with their juice and mash with a fork. Set aside.
In a large saucepan, saute the carrot, onion, and celery with 4 tablespoons of EVO oil over medium heat for about 1 minute.
Then add the potatoes and a sprig of thyme and rosemary. Cook over medium heat, stirring, for about 3 minutes.
Finally, add the tomatoes.
Stir and cook over medium heat for about two minutes. Then add the cabbage, chard, and kale.
At this point, add 2 liters (8 1/2 cups) of bean cooking water (or vegetable broth if using canned beans).
Cover and cook on a low heat for about 2 hours. If the ribollita soup gets too dry, add a ladle of hot water or hot vegetable broth.
After about 2 hours, the soup will be cooked and the vegetables will be soft. At this point, add the cream of beans and stir.
Cook for another 10 minutes, stirring occasionally. Now add the whole beans that have been kept aside.
After another 10 minutes or so, season with salt and pepper, stir and remove from heat.
The ribollita soup is almost ready.
Cut the stale bread into large slices or pieces.
Now take a pot or high-sided casserole that is larger than the one that holds the vegetable soup.
Place the stale bread slices on the bottom and add a few ladles of soup.
Repeat adding a layer of bread and a layer of soup until the pot is full.
Allow to cool at room temperature, then cover with plastic wrap and keep in the fridge for at least 2 hours.
PLEASE NOTE: This time in the refrigerator is necessary to allow the bread to absorb all the liquid from the soup and to give the ribollita its typical thick consistency.
At the end of this time, take the pot. The bread will have absorbed the soup and will be completely melted. The soup will be semi-solid.
Return to the heat and bring to a boil.
Cook again over a low heat for about 15 minutes. Season with the thyme leaves. Add more salt and pepper if necessary!
Ribollita is now ready! Serve hot with a drizzle of extra virgin olive oil.
Baked Ribollita
Another interesting variation is baked ribollita, which you can make with the addition of raw onions.
Instead of cooking the soup the next day, place it in a baking dish and top with a layer of sliced raw onions.
Add a drizzle of oil and bake at 200°C (390°F) until the onion is golden on the surface.
Reference
:
https://www.recipesfromitaly.com/ribollita-soup-recipe/
---
Stracciatella alla Romana - Italian Egg Drop Soup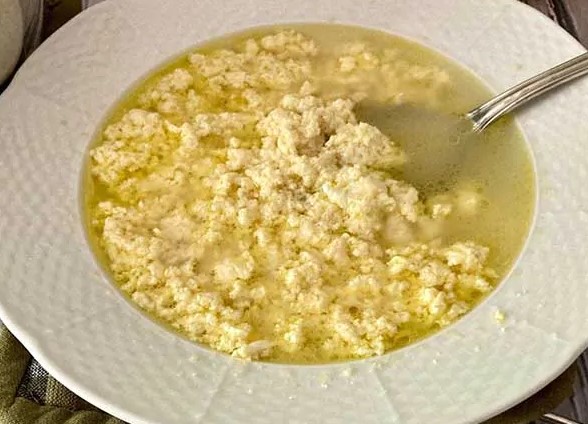 Ingredients
:
4 fresh whole eggs
1 liter (4 cups) of meat broth
80 g (3/4 cup) of grated Parmigiano Reggiano
1 organic lemon
grated nutmeg to taste
fine salt to taste
Mathod
:
Before beginning the preparation of Stracciatella, remove the meat and vegetables from the broth. Then strain the broth through a narrow strainer.
You should get a "clean" and clear liquid, free of impurities and residual fat or vegetable threads.
After straining the broth, put it into the pot in which you will prepare the Stracciatella and bring it back to a boil.
Meanwhile, in a bowl beat the eggs with a whisk.
Add grated Parmigiano cheese, a pinch of salt, a tiny bit of nutmeg, and finally grated lemon zest.
Mix well with a whisk to combine all the ingredients.
When the broth boils, pour in the beaten egg and cheese mixture.
Cook for one minute and then stir. Stir vigorously with a whisk if you want a very fine soup consistency. Otherwise, stir with a spoon to make a mixture with larger egg pieces. It's a matter of taste.
This way the egg "scrambles", forming many small dense lumps in the broth.
The result is a creamy soup, thanks to the egg cooking in the broth.
Stracciatella alla Romana is ready. Enjoy it hot and, if you like, with more Parmigiano cheese or fresh chopped parsley.
Tips
:
The unique aroma and flavor of this recipe comes from the addition of two special ingredients: lemon zest and nutmeg.
Often, before serving the stracciatella alla Romana, a little chopped parsley is added to the dish. Even mint, widely used in Roman cuisine, could give a fresh and original touch.
Vegetarian stracciatella
If you want to make the dish perfect for vegetarians as well, you can prepare stracciatella using a homemade vegetable broth.
Maybe, to give it more flavor, add more aromatic herbs. Or for example some champignons or a piece of bell pepper to the broth in addition to the classic vegetables.
Minestra del Paradiso (Paradise Soup)
In this recipe there is also a little breadcrumbs among the ingredients. The consistency is a little thicker than Stracciatella alla Romana.
Zuppa Imperiale (in Lazio) or Pasta Reale (in Marche)
These are recipes always based on meat broth, eggs and Parmigiano cheese, but also semolina. The difference here is that they first bake the egg mixture. Then cut them in cubes. Finally, they dip eggs cubes into the hot meat broth.
Reference
:
https://www.recipesfromitaly.com/stracciatella-alla-romana-italian-egg-drop-soup/