Patate arrosto - Roasted potatoes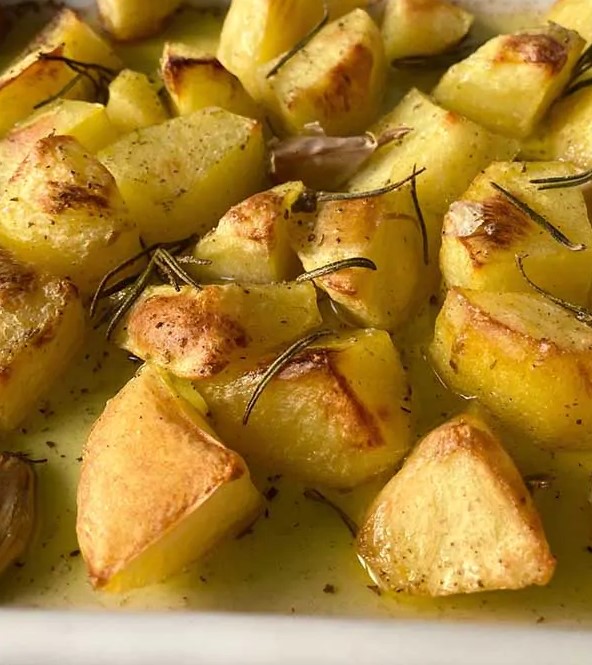 Ingredients
:
1 kg (2,2 lb) of potatoes
2 or 3 cloves of garlic
3 or 4 sprigs of rosemary
5 tablespoons of extra virgin olive oil
salt and pepper to taste
Method
:
To make Italian roasted potatoes, first you need to wash them to remove any remaining soil.
Then cut the potatoes first in half, lengthwise, and then in half one more time.
From these wedges, cut large pieces of potatoes of about 2 to 3 cm (3/4 to 1 inch).
Try to get pieces as equal in size as possible so that they are evenly cooked.
Then put the potatoes in a bowl with cold water for about 15 minutes. This will remove some of the starch.
While the potatoes are soaking, bring a pot of lightly salted water to a boil. Dip the potatoes and boil them for 2 to 3 minutes.
These two steps (soaking in cold water and short boiling) help make the potatoes crispy on the outside and soft on the inside, with a perfect browning.
Finally, drain the potatoes and arrange them in a baking dish. Drizzle evenly with plenty of extra virgin olive oil.
Use a baking dish large enough so that the potatoes do not overlap.
Then add the whole, peeled and lightly crushed garlic cloves. Finally, add the rosemary needles, a little fine salt and some ground black pepper.
Bake in a preheated oven at 200°C (390°F) for about 40 minutes.
While baking, it's a good idea to shake the baking dish several times to stir without breaking them and thus prevent the potatoes from sticking to the bottom.
Now the golden and crispy Italian roasted potatoes are ready!
Tips
:
First of all, you need to choose the right potatoes. The yellow potatoes are best suited in this case.
In addition, to further reduce the amount of starch, we recommend to soak them in cold water before cooking and then dip for a very few minutes in boiling water.
For optimal roasting in the oven, we recommend to cut the potatoes evenly. This way they are all similar in shape and size and bake uniformly. Also take care to use a sufficiently large baking dish so that the potatoes do not overlap each other. It's helpful to put the potatoes in a preheated oven at 200°C (390°F) and not stir them for the first 10 minutes of baking.
After about 10 minutes, stir to get them more evenly cooked and to check that they do not stick to the bottom. We recommend not using a spoon but shaking the baking dish to avoid breaking them.
Skin On Roasted Potatoes
To give your dish a more rustic and original look, you can cook baked potatoes with the skin on!
Potato skins, besides being very good, are rich in iron and vitamins.
Pan-Roasted Potatoes
You can also make roasted potatoes cooked in a pan.
Cut the potatoes into chunks then put them in a pan with oil, garlic, rosemary, salt and pepper.
Turn on the heat and cover with a lid. Cook over low heat for about 20 minutes, stirring occasionally. This way the potatoes stew slowly.
When they are cooked, remove the lid, raise to medium heat and roast for about 20 minutes, stirring from time to time.
Spicy Roasted Potatoes
For example, you can make very spicy roasted potatoes by adding paprika and turmeric or chili powder.
Bacon Roasted Potatoes
For a richer dish, many add thin slices of bacon and some onion, which will become crispy along with the potatoes during cooking.
Crispy Roasted Potatoes with Breadcrumbs: Sandy Potatoes
A popular variation used to increase the crispiness of potatoes is the addition of breadcrumbs. We call this variation "Patate Sabbiose" (Sandy Potatoes).
Once seasoned and flavored, the potatoes are tossed in breadcrumbs, which gives precisely the "sandy" effect, and then baked in the oven. The breadcrumbs toast as the potatoes roast. A delight!
Some people also combine the breadcrumbs with a little grated Parmigiano cheese to give them more flavor.
Roasted Potatoes with Butter
A variation popular especially in northern Italy is the use of melted butter instead of oil.
This makes the dish a bit richer and more caloric, but the sweetness of the butter gives the plate a unique flavor and makes it suitable as a side dish even for elegant and refined main courses.
Reference
:
https://www.recipesfromitaly.com/italian-roasted-potatoes/
---
Peperonata - Classic Italian Bell Pepper Stew
Peperonata is one of the most classic Italian side dish and probably every Italian family has its own recipe.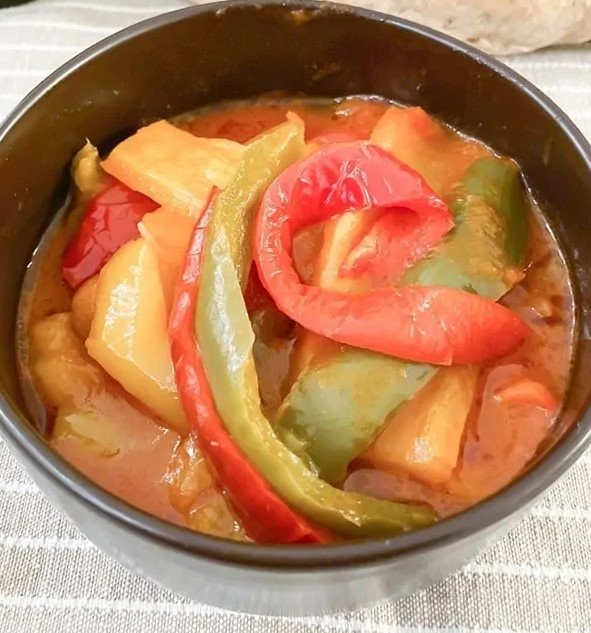 Ingredients
:
3/4 bell peppers (depending on size) of mixed colors: yellow, green and red
1 medium onion
200 g (7 oz) of tomato passata
1 garlic clove, peeled and left whole
fine salt to taste
5 tablespoons of extra virgin olive oil
Method
:
Wash the peppers and place them on a baking sheet covered with parchment paper. Transfer them to the preheated oven at 200 °C (390 F) and cook for 10 minutes, turning them from time to time so that they cook evenly.
When the peppers are roasted, let them cool slightly and then peel them, remove seeds and filaments and cut them into slices.
In a non-stick frying pan, make a soffritto: heat five tablespoons of extra virgin olive oil, together with the garlic and sliced onion. Sauté for about 10 minutes on low heat covered with a lid. Then add the bell peppers.
We leave the garlic whole so as to remove it before serving. The dish is thus more digestible. If you really like the taste of garlic and you have an iron stomach, then just cut it into slices and leave it inside. Be careful not to use a lot of garlic, otherwise it will cover the flavor of the peppers.
Mix the peppers with the onion and cook for a few minutes over low heat, then remove the garlic clove and add the tomato passata.
Mix well, add fine salt to taste, then cook over low heat for about 20 minutes. Peperonata recipe is ready. Serve lukewarm or cold.
Italian Peperonata recipe is excellent hot or lukewarm, together with roasted or grilled meat. In summer this pepper stew is particularly good eaten cold, with cheeses and cold cuts. Peperonata is perfect even on hot bruschetta and it's really excellent served as pasta sauce!
Tips
:
For Peperonata recipe, you can use fresh and very ripe tomatoes instead of the tomato passata.
You can flavor this pepper stew with fresh basil or parsley according to your tastes.
For a much tastier Peperonata, you can add red hot chlli pepper or some chopped anchovies in oil.
For a sweet and sour Peperonata, before adding the tomato, add a heaping spoonful of sugar and about 100 ml of apple vinegar.
Peperonata Umbra
In Umbria region they use only green bell peppers to make Peperonata Umbra. It's a tasty and genuine side dish made with green bell peppers, white onions and very ripe tomatoes. For this reason, this dish is called "la Bandiera", or "the Flag", because green, white and red are the colors of the Italian flag.
Unlike the traditional peperonata, "la Bandiera" requires a longer cooking which serves to make the dish creamier.
Peperone di Carmagnola
The bell pepper from Carmagnola, a small town near Turin, is considered one of the best Italian qualities and a real gastronomic excellence of Piedmont. This PGI (Protected Geographical Indication) product can be bright red or intense yellow.
This Piedmontese geographical area, with particularly fertile soil, is also famous for the cultivation of delicious and renowned leeks, perfect for a good traditional Leek Risotto!
Carmagnola bell pepper is a vegetable that grows in flat areas characterized by sandy soils and without the use of chemical fertilizers. The hand picking of this vegetable takes place around the end of July and lasts until October. To best enjoy Carmagnola pepper you need to prepare it raw in pinzimonio or let it dry in the oven.
Bagna caöda
Traditional recipes offer it in bagna caöda, as a side dish for roasts and boiled meats in Peperonata, stuffed with minced meat, aromatic herbs and eggs or preserved in oil or vinegar. It is also possible to experiment with less usual combinations with crustaceans, or more daring with chocolate.
Reference
:
https://www.recipesfromitaly.com/peperonata-recipe-italian-bell-pepper-stew/
---
Patate Rosse e Mele Verdi - Red Potatoes and Green Apples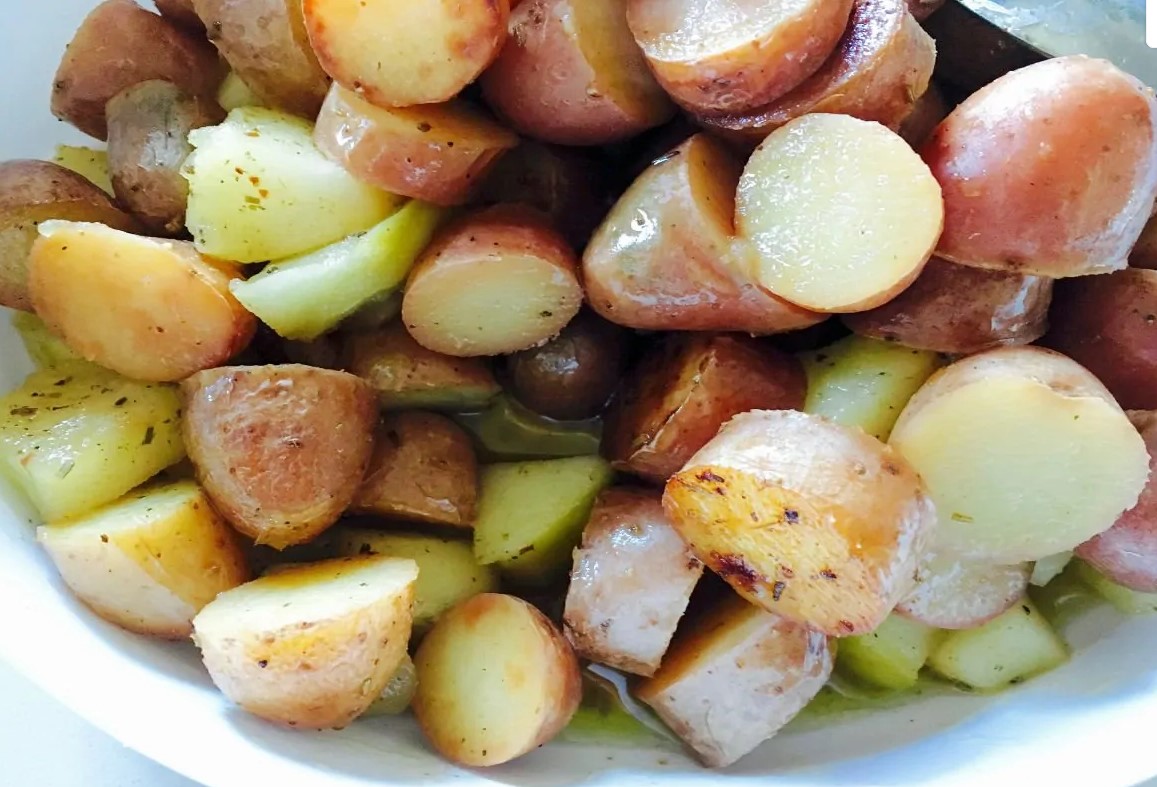 Ingredients
:
500 gr (17 oz) – red potatoes
4 – tablespoons extra virgin olive oil
2 – green apples
2 -3 flakes of butter
chopped aromatic herbs
salt and pepper
Method
:
Wash and dry carefully red potatoes and green apples, because they have to be cooked with their skin. Then cut them into small pieces. Pour the extra virgin olive oil in a large frying pan and heat it a bit.
Put the potatoes and apples in the pan and cook over medium heat for about 10 minutes, then add the butter flakes, chopped aromatic herbs, according to your taste, salt and pepper. Cook another 10 minutes over medium heat, stirring occasionally with a wooden spoon.
Remove from heat and serve as a main dish or as a side dish. Pork Loin Braised in Milk is a perfect dish to serve alongside this recipe.
Reference
:
https://www.recipesfromitaly.com/red-potatoes-and-green-apples/