Gnocchi alla Sorrentina
cuisine of Campania, in particular of Sorrento
It must be traced back to the 16th century, when the importation of potatoes into Europe from America began.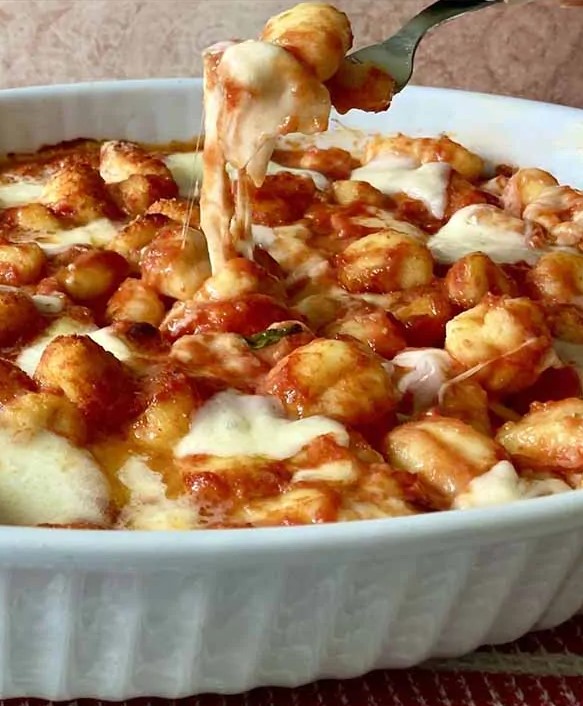 Ingredients
:
For homemade gnocchi recipe:
(about 800 g- 1,7 lb x 4 people)
500 g (about 1 lb) of potatoes
150 g (1 cup) of flour
1 medium egg
1/2 teaspoon of fine salt
For Sorrentina sauce
500 g (2 cups) of tomato passata. We recommend Italian Passata Rustica by Sanniti. Or make homemade tomato passata with our recipe.
300 g (about 10 oz) of fresh mozzarella cheese
60 g (3/4 cup) of grated parmigiano cheese
1 clove of garlic
5 tablespoons of extra virgin olive oil
fresh basil
salt to taste
ground black pepper to taste
Method
:
How to Make Homemade Gnocchi
Boil potatoes in a large pot with plenty of water. Occasionally, feel with a fork to check cooking time. This takes 20 to 40 minutes, depending on the size of the potatoes.
When they are cooked, drain them and remove the skin. Then mash the potatoes with a potato masher.
Separately, beat the egg in a bowl with a fork. Then add the flour to the potatoes, salt and finally add 2 tablespoons of the beaten egg.
Mix the ingredients with your hands for a few minutes. The dough should be soft but firm. Make a ball and flour it.
Cut a piece of dough, about the size of a tennis ball. Place it on the pastry board and, with the help of your hands, make a roll of dough about one finger thick.
Cut the roll every 2 cm (about 1 inch), so that you get small cylinders. Now you can use a gnocchi board previously floured: slide your little gnocchi over the gnocchi board by pressing lightly with your thumb in the middle.
Proceed to make potato gnocchi until all the dough is done. This STEP IS OPTIONAL. It's usually done because the lines and hollow left by the thumb hold the sauce better.
Let the gnocchi rest at room temperature for about 20 minutes before cooking them.
Now the gnocchi are ready. You can use them right away to make the gnocchi alla sorrentina recipe or freeze to have them always ready and available. Read the paragraph further down" How to Freeze Homemade Gnocchi".
How to Make Gnocchi alla Sorrentina
Cut the mozzarella into cubes. You'll use them at the end to dress the Gnocchi alla Sorrentina. Drain the mozzarella in a colander to remove as much water as possible.
Meanwhile, in a non-stick saucepan, sauté the garlic in extra virgin olive oil, peeled and whole.
Add the tomato passata, basil, a little salt and some ground black pepper. Bring the sauce to a boil, then lower the heat to low and keep cooking for 15 minutes, stirring occasionally. Cover with a lid.
Be careful to remove the garlic clove before using this flavorful tomato sauce.
Now you need to cook the gnocchi. Fill a large pot with water and bring to a boil. When it boils add the coarse salt. Pour in the gnocchi a few at a time. When the gnocchi come to the surface, it means they are cooked.
Drain them with a slotted spoon when they float.
Pour the gnocchi directly into the pan with the tomato sauce. Add half of the mozzarella cubes. Stir gently with the heat off.
Transfer the gnocchi dressed with the tomato sauce to a baking dish, greased with a little oil. Add the remaining mozzarella cut into cubes on top. Sprinkle the top with plenty of grated Parmigiano cheese and a few basil leaves.
Bake Gnocchi alla Sorrentina in a static oven, preheated to the highest temperature, for about 5-10 minutes, until the mozzarella has softened.
You can even turn on the grill function for 3-4 minutes to get a crispy crust on the surface. Serve Gnocchi alla Sorrentina hot and steaming!
The Tradition of " PIGNATIELLO ", a Terracotta Pot
According to Neapolitan tradition, Gnocchi alla Sorrentina are served in an earthenware pot, called "Pignatiello" in Neapolitan dialect.
They transfer the seasoned gnocchi to the terracotta pan, ready for cooking. Terracotta is ideal for grating and keeping the heat of the food for a long time. Then, given the beauty of these dishes, they serve the gnocchi directly into the "Pignatiello", hot and steaming.
A really nice and unique idea for dinners with friends is to use terracotta single-portion pans. From the oven directly to the table!
Gnocchi alla Parmigiana
To make the dish richer, many add fried eggplant cubes, which certainly go very well with the mozzarella and tomato.
The result is a gnocchi dish that is very similar to Eggplant Parmigiana.
Gnocchi alla Pizzaiola
This is also a classic recipe of the Neapolitan tradition. The recipe is identical to the one for gnocchi alla Sorrentina, but they add oregano instead of basil.
Oregano is one of the most used aromatic plants in the Mediterranean cuisine. It's used on Pizza Marinara or to make Marinara sauce.
Pasta alla Sorrentina
Often, instead of potato gnocchi, they use pasta, seasoned in the same way and baked with the same cooking method.
The most used pasta shapes for this recipe are "Paccheri" and "Fusilli".
Reference
:
https://www.recipesfromitaly.com/gnocchi-alla-sorrentina/
---
Orecchiette con Broccoli, Acciughe e Pomodorini - Orecchiette with Broccoli, Anchovies and Tomatoes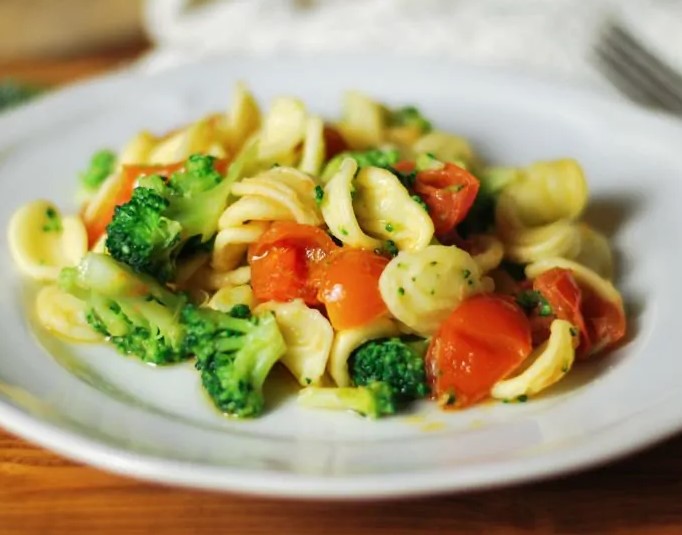 Ingredients
:
300 g (about 10 oz) of orecchiette pasta
200 g (about 7 oz) of broccoli florets
10 cherry tomatoes
2 anchovy fillets in oil
4 tablespoons of Extra Virgin olive Oil
1 garlic clove
fine and coarse salt
1 small red chilly pepper (optional)
grated hard ricotta or pecorino (optional)
Method
:
Orecchiette with broccoli, anchovies and cherry tomatoes is a really easy recipe, just follow a few small tricks. First of all, in a pan heat the oil over medium heat and add the garlic clove, cut in half and to which you have removed the central green part. Add the previously cleaned anchovies and cook for two minutes or until the anchovies have melted. At this point you can add the hot pepper, depending on whether you like the spicy taste.
Cut the cherry tomatoes into four parts and add them to garlic and anchovies. Cook for a very short time over medium heat and with the lid on, something like five minutes. Add a pinch of salt but only if necessary (the anchovies are already very salty). Meanwhile, cut the broccoli and put a pot with 3 liters of water on the stove and bring to a boil. When the water boils, add a tablespoon of coarse salt.
Since you have to use only broccoli florets, try to cut very small ones. Wash them under running water, and when the water is boiling, add the broccoli florets.
Add immediately orecchiette and cook until they are al dente (4 to 6 minutes, depending on the size and thickness of the orecchiette). When the pasta is cooked, drain the orecchiette with broccoli and place them in a bowl. Remove the garlic from the tomatoes and add cooked cherry tomatoes to orecchiette with broccoli. Stir well then put a portion of orecchiette with broccoli, anchovies and cherry tomatoes in a serving dish. Add a little extra virgin olive oil and serve. Add grated pecorino or hard ricotta to taste.
Orecchiette, Dialect Names Curiosities
In Apulia there are several ways to call this particular type of fresh pasta: "recchie or recchietelle" (it: "orecchio" en: "ear") for their shape that vaguely resembles that of an ear; "chianchiarelle" if they are smaller in size; "pociacche" if they are of a larger size.
There are also flat orecchiette called "strascinate" (it: "trascinare" en: "to drag") that are only dragged with the knife on the pastry board and not turned on themselves as to make orecchiette recipe.
Reference
:
https://www.recipesfromitaly.com/orecchiette-with-broccoli-and-tomatoes/
---
Ravioli (Tortelli) di zucca al burro di salvia - Pumpkin ravioli (tortelli) with sage butter
Pumpkin ravioli (Tortelli o Ravioli di Zucca) is a traditional dish of Lombardy, a region in northern Italy. In particular they are famous in the city of Mantua (Mantova).
Pumpkin Ravioli Recipe is very ancient. The original recipe dates back to the Renaissance, when Gonzaga family ruled Mantua.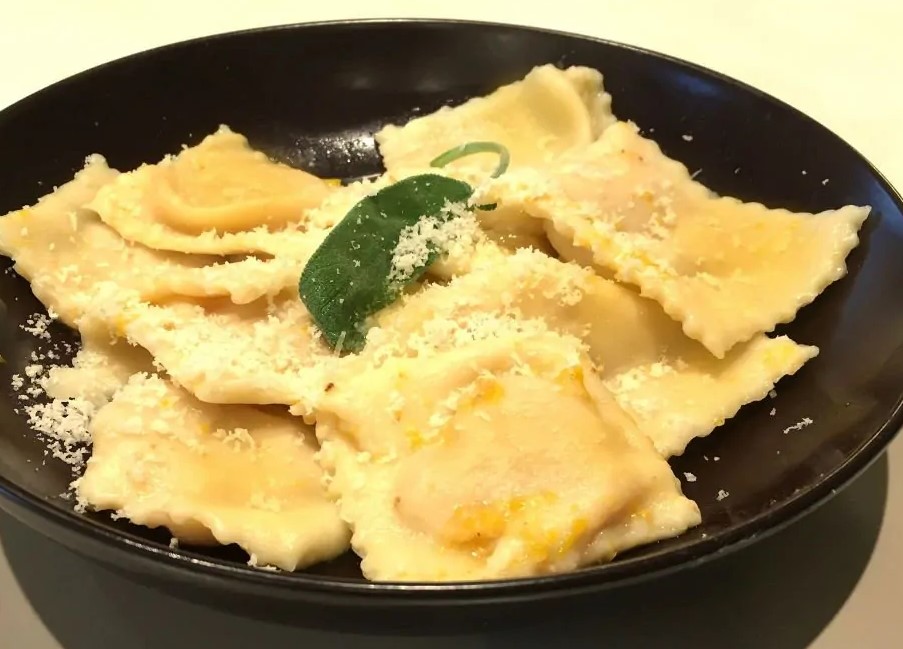 Ingredients
:
ravioli
70 g ( 2,5 oz ) of unsslted butter
a few sage leaves
grated Parmigiabo cheese to taste
Method
:
Cook the ravioli in boiling salted water for about 10/15 minutes. Occasionally taste the corner's dough to feel if the ravioli are cooked and ready. Pour the butter into a small fry pan and place over low heat. Add the sage leaves and heat for 3 to 4 minutes. Remove from the heat and cover to keep warm.
Using a large slotted spoon, lift out the ravioli and transfer to the serving plate. Drizzle the sage butter over the ravioli and add copious grated Grana Padano cheese. Serve immediately.
Reference
:
https://www.recipesfromitaly.com/pumpkin-ravioli-original-recipe/
---
Gnudi di ricotta e spinaci - Spinach and Ricotta Gnudi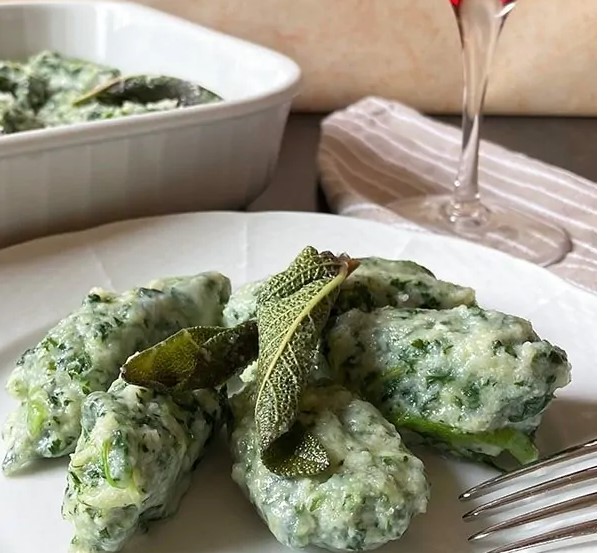 Ingredients
:
400 gr (14 oz) of fresh spinach or 500 gr (1,1 lb) of frozen spinach
400 gr (14 oz) of ricotta cheese
1 tablespoon of unsalted butter
2 medium eggs
160 gr (6 oz) of all purpose flour
a pinch of grated nutmeg
160 gr (6 oz) of grated Parmigiano Reggiano
salt and pepper to taste
For the seasoning:
90 g (3 oz) of unsalted butter
5/6 sage leaves
Method
:
Boil the spinach in very little salted water for about 5 minutes. Then drain them very well, squeezing to drain the water with the help of a fork.
Chop up the spinach with a knife on a cutting board or with scissors on a plate. DO NOT use an electric vegetable grinder to avoid making the spinach a mush. Place the spinach in a frying pan with 1 tablespoon of butter and cook them on medium/high heat for 2/3 minutes to flavor and dry them even more.
Let the spinach cool a little then place them in a large bowl and add the ricotta, stirring with a fork.
Then add the eggs and the grated parmigiano. Mix to combine.
NOTE FOR RICOTTA GNUDI RECIPE: If you want to make ricotta gnudi, skip the first 3 steps and proceed immediately by mixing the ricotta with the eggs and parmigiano as described in step 4. Then go on with the following steps. The quantity of ingredients without the spinach is for 4 people.
Add enough nutmeg to flavor the mixture well, preferably freshly grated. Then start to incorporate the flour little by little, keeping to stir with a spoon until the mixture is well blended and very soft.
Now it's time to give gnudi a shape. You can choose between a round or oval shape. As you like best. We are going to show you how to make gnudi with a rather elongated oval shape, like the traditional Italian recipe. So first cover a tray with baking paper with plenty of flour. The dough must be very soft and could stick to the fingers, so help yourself with two spoons and make the classic oval shape of about 5 cm (2 inch).
Whenever the gnudi are ready, place them on the floured tray, well spaced from each other.
In a saucepan, melt the butter with the sage leaves in a bain-marie and set aside. You will use this dressing to season spinach and ricotta gnudi.
Now bring to a boil a pot with plenty of salted water and cook the gnudi gnocchi a few at a time for about 4/5 minutes. As soon as gnudi come to the surface, remove them from the water with a skimmer, draining them well.
Place cooked gnudi in a serving dish and season them with plenty of melted butter and sage leaves. Serve gnudi hot with a sprinkling of grated Parmigiano, according to your taste.
Gnudi should be eaten immediately.
Stir fried Gnudi
After boiling, you can stir-fry gnudi in a pan with butter and sage for a few minutes. This step makes gnudi certainly tastier but also heavier because they fry in butter.
Baked Gnudi
If you cannot serve gnudi immediately or you prefer a more crunchy consistency, after having drained, place them in a baking dish. Sprinkle with grate parmigiano and butter Then brown in the oven at 200°C (390 F) with grill on for a few minutes. Remove and let them rest for a couple of minutes before serving.
Tuscan Gnudi and Lombard Malfatti
What is the difference between Tuscan gnudi and Lombard malfatti? In truth, there is little difference between these two typical Italian dishes
Malfatti are very popular in Lombardy, a region in northern Italy, especially in Brescia. The name "Malfatti" means badly done that is with no shape, because with their soft texture it is difficult to give them a beautiful and precise shape. Malfatti are a sort of dumplings made with ricotta, spinach, eggs, flour as for gnudi recipe but with the addition of breadcrumbs in the mixture in place of flour.
Reference
:
https://www.recipesfromitaly.com/gnudi-recipe/
---
Cannelloni di Magro - Spinach and Ricotta Cannelloni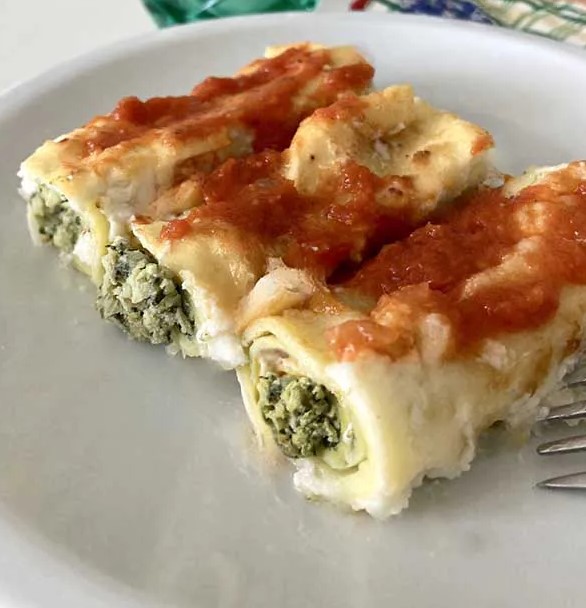 Ingredients
:
Ingredients for about 18 cannelloni (3 cannelloni per serving)
For Homemade Pasta
200 g (1 ½ cup) of "00" Soft Wheat Flour
200 g (1 ½ cup) of durum wheat flour (semola flour)
4 eggs of at least 70 g (2,5 oz) each. Fresh homemade pasta usually wants 1 egg x 100 g (¾ cup) of flour.
PLEASE NOTE: you can make fresh homemade cannelloni following our step-by-step recipe. Or you can buy authentic Italian cannelloni, oven-ready (no need to boil them), made with durum wheat.
For Besciamella Sauce
500 ml (2 cups) of milk
50 g (1,7 ounce or ¼ cup) of unsalted butter
50 g (1,7 ounce or 4 tablespoons) of all-purpose flour
1/4 teaspoon of fine salt
freshly grated nutmeg
Spinach and Ricotta Filling
300 g (11 oz) of fresh spinach
250 g (8,8 oz ) of ricotta
100 g (1 cup) of grated Parmigiano cheese
1 egg
freshly grated nutmeg
fine salt
freshly ground black pepper
For Tomatoes Sauce (Optional)
Tomato sauce is optional. You need it if you want to make "red" spinach and ricotta cannelloni, that is, with a little tomato. If, on the other hand, you prefer "white" cannelloni, i.e. topped only with béchamel and Parmigiano, leave it out.
500 ml (about 2 cups) of tomato passata that you can make with our fantastic recipe or buy it already made, ready to use. We reccomend Mutti Tomato Puree (Passata)
1 little onion
3 tablespoons of extra virgin olive oil
fine salt to taste
Method
:
Tomato Sauce
First make the tomato sauce. You can make it 1 or 2 days in advance and store it in the refrigerator. You can also freeze it. Skip this step if you want to make the cannelloni "in bianco", without tomatoes (see the paragraph below).
Finely chop the onion. Sauté in oil for a few minutes in a saucepan. Add the tomato passata and a pinch of salt. Stir, cover and cook over medium heat for about 10 minutes. When ready, set aside.
Cannelloni Pasta

The recipe is the same as the one we use to make lasagna noodles. Once lasagna sheets are ready, they should be rolled up to make homemade cannelloni.
You can also buy ready-made cannelloni. We recommend Cannelloni Durum Wheat Pasta by Rustichella D' Abruzzo because they are ready to go in the oven, so you don't have to cook them first.
Put the flour on a work surface and make a hole in the center. Add the eggs.
Knead the eggs and flours with your hands for about 10 minutes. If the dough is too soft and sticky, add more flour. If the dough is too hard and difficult to knead, add a little water.
Form a ball and wrap in plastic wrap. Let it rest at room temperature for about 30 minutes. (While the dough is resting, you can prepare the béchamel sauce and the filling. See next steps).
Now dust the work surface with a little flour, using durum wheat flour. Take a piece of dough about the size of a tennis ball and crush it between the palms of your hands. Wrap the rest of the dough in plastic wrap to keep it soft.
Roll the dough through the widest setting of your pasta machine or pasta roller attachment. Remember to dust the dough with wheat flour if you feel it is getting sticky.
Fold the dough in half and then fold it in half again.
Then roll the folded dough (again) through the widest setting of the pasta machine. Repeat the process 3-4 times (roll-fold-roll) until smooth.
Now you can start rolling the dough through all the other settings of the pasta machine, from widest to narrowest.
We have found that the second to last setting makes the dough rather thin, perfect for cannelloni pasta.
You now have long strips of fresh dough.
Cut them into rectangles about 10 cm x 15 cm (4 x 6 inches). These are your cannelloni, which you need to stuff and then roll up.
For more information and details you can read our recipe "How to make homemade pasta".
Bechamel Sauce
(
Besciamella Sauce)
In a pan, prepare the "roux" by melting the butter and adding the flour. Stir with a hand whisk to remove any lumps.
Pour the milk into a saucepan and heat it slightly. Turn off the heat and pour the warm milk into the roux, stirring quickly with a hand whisk.
Return to the heat. Season with salt and a little nutmeg. Cook over medium heat, stirring constantly, until the béchamel has reached the desired consistency.
Cover with plastic wrap and set aside. You can also store it in the refrigerator for a couple of days. However, the plastic wrap must be in contact with the béchamel. This is the only way to prevent that unpleasant film from forming on the surface.
Filling for Cannelloni
To prepare the filling, first remove the leathery part of the stem from the spinach and wash them (if using fresh spinach).
Boil the spinach leaves for 3-4 minutes in a pot with a little water and a pinch of salt.
Drain, allow to cool and squeeze well. Then chop them with a knife. We do NOT recommend using an electric blender as it will reduce the spinach to mush.
Place the spinach in a bowl. Then add the ricotta (well drained of its water), the egg and the grated Parmigiano cheese.
Finally, add the grated nutmeg and a little black pepper. Season with salt and mix well until smooth. Set aside.
Make Cannelloni
Quickly blanch the pasta sheets in boiling salted water.
Take a fairly large pot. Fill it with water, add a little salt and bring to a boil. When it boils, add a tablespoon of oil. Now dip the sheets of dough one by one. It only takes a few seconds. Drain them well.
Once removed, place them on clean dish towels.
Note: This step is not always necessary, but we recommend it if the dough is not very thin.
Now place about two tablespoons of the filling on one side of the dough rectangle (not in the center).
Roll the dough on itself around the filling to form cylinders (cannelloni).
Spread two tablespoons of the béchamel sauce and one tablespoon of the tomato sauce in the bottom of a baking dish. Then arrange the cannelloni inside the casserole.
Top with plenty of béchamel sauce and grated Parmigiano cheese.
Add 2-3 tablespoons of tomato sauce. This should not be too much. The béchamel remains the main sauce in this recipe.
Place the baking dish in a hot oven at 200°C (390°F) and bake for 15 minutes. To get a nice crispy crust on top, you can turn on the grill for the last 2-3 minutes.
When cooked, remove from the oven and let the ricotta and spinach cannelloni rest at room temperature for 5 minutes. Serve hot.
Spinach and Ricotta Cannelloni "in Bianco" (Without Tomato Sauce)
As already mentioned, it's also possible to make the cannelloni with spinach and ricotta completely "in bianco", without adding tomato sauce.
The recipe does not change, just leave out the tomato sauce.
Sprinkle the bottom of the baking dish with béchamel sauce only, and top the cannelloni with plenty of béchamel sauce and grated Parmigiano cheese.
Both versions are equally popular in Italy and we consider them to be classic and traditional recipes.
The red version is more flavorful, while the white version is more delicate.
Chard and Ricotta Cannelloni
Chard is often used instead of spinach, especially in central Italy.
Cannello with fresh parsley and lemon zest
In Romagna and northern Marche, they use fresh parsley and lemon zest along with ricotta.
This is a variation for both red (with tomato sauce) and white (without tomato sauce), that is really good, fresh and aromatic.
In Romagna and northern Marche, they use fresh parsley and lemon zest along with ricotta. This is a variation, both red and white, that is really good, fresh and aromatic.
Reference
:
https://www.recipesfromitaly.com/spinach-and-ricotta-cannelloni/